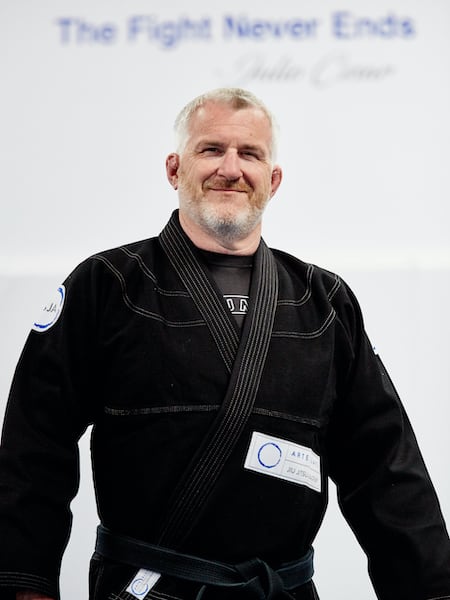 James Walsh
James "Jimbo" Walsh, a life long martial artist, was introduced to Brazilian Jiujitsu by his son, Declan, whom began training at 4 years old. About 5 months after Declan started training, at the ripe young age of 40, he was handed a kimono by his son's instructor, Robson "Mau Mau" Rodrigues of GF Team Massachusetts. It took about 3 classes before he was completely hooked on the art that has since become his passion in life (although his wife describes it as his addiction). After training with Mau Mau for almost 4 years, his family moved to Charlotte and he met and began training under Coach John Piper of the Charlotte Jiujitsu Academy.
Although not a prolific competitor, Jimbo enjoys stepping out of his comfort zone and testing his skills at IBJJF tournaments. As a purple belt he competed at the IBJJF World Masters in 2018 winning a Bronze medal. The following year he returned to World Masters as a brown belt and was blessed with a gold medal as the Brown Belt World Champion. On the podium, he was also honored by his professors Mau Mau Robson de Lima, John Piper and the founder of GF Team, Mestre Julio Cesar Pereira, who presented him with his black belt.
Jimbo is realizing his dream of opening a jiujitsu school, and is an instructor and owner of Arte Suave Jiujitsu Academy. He is passionate about the jiujitsu community, the sport and his team, GF Team. He believes that jiujitsu can change people's lives as it did for him.