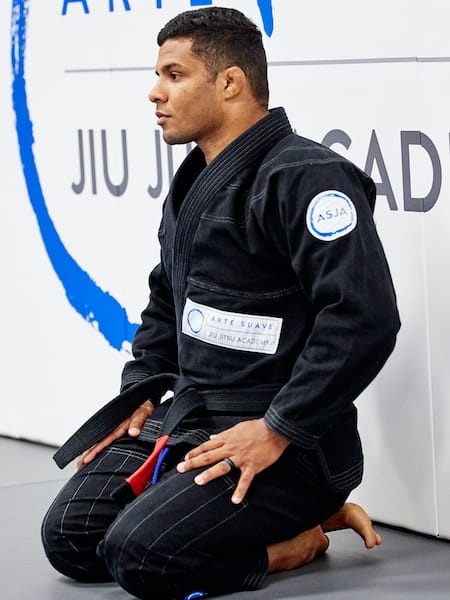 Hiago Freitas
Gialysson "Hiago" Adao started training jiujitsu at the age of 16 in Villa Isabel, Rio de Janeiro, Brazil. Like every kid his age, he had tried many different sports, but nothing else compared to his love of jiujitsu!
Hiago was introduced to jiujitsu in July 2009 from a friend who lived near him. He began training with his professors Marcio Tubarão and José Luis Varella at Academia 295. Hiago fought and won his first competition after only training for 1 1/2 months. At that moment he realized how much jiujitsu could add to his life. Hiago's mother also saw the great opportunity to raise him out of the favela where they were living, and she did everything she could to support him in his jiujitsu journey. Typical of families living in the favela, they did not have a lot of money, but Hiago was very fortunate for the support and guidance of his professors. Like all young Brazilians in this sport, he never doubted his potential. He trained daily and worked hard every day to achieve his dreams.
Hiago is a prolific competitor in both Brazil and North America in Gi and No Gi tournaments, with numerous gold, silver and bronze victories. He is also an Official IBJJF Referee.
Today he lives in Charlotte, NC. He was presented his black belt by Masters José Luis Varella, João Alfredo Tavares Marino and Julio Cesar Pereira, the founder of GF Team. Hiago is the head instructor and part owner of Arte Suave Jiujitsu Academy.
Gialysson "Hiago" Adao começou a treinar jiujitsu aos 16 anos em Villa Isabel, Rio de Janeiro, Brasil. Como todo garoto de sua idade, ele havia praticado muitos esportes diferentes, mas nada mais se comparava ao seu amor pelo jiujitsu!
Hiago foi apresentado ao jiujitsu em julho de 2009 por um amigo que morava perto dele. Ele começou a treinar com seus professores Marcio Tubarão e José Luis Varella na Academia 295. Hiago lutou e venceu sua primeira competição depois de apenas 1 mês e meio de treinamento. Naquele momento, ele percebeu o quanto o jiujitsu poderia adicionar à sua vida. A mãe de Hiago também viu a grande oportunidade de tirá-lo da favela onde moravam, e ela fez todo o possível para apoiá-lo em sua jornada de jiujitsu. Como uma família típica da favela, eles não tinham muito dinheiro, mas Hiago teve muita sorte através do apoio e orientação de seus professores. Como todos os jovens brasileiros nesse esporte, ele nunca duvidou de seu potencial, e treinava diariamente trabalhando duro todos os dias para alcançar seus sonhos.
Hiago é um concorrente prolífico no Brasil e na América do Norte nos torneios Gi e No Gi, com inúmeras vitórias em ouro, prata e bronze. Ele também é um árbitro oficial da IBJJF.
Hoje ele mora em Charlotte, Carolina do Norte, onde teve sua faixa-preta apresentada pelo Mestre, José Luis Varella, João Alfredo Tavares Marinho e Julio Cesar Pereira fundador da GF Team. Hiago é o instrutor principal e co-proprietário da Academia Arte Suave Jiujitsu.